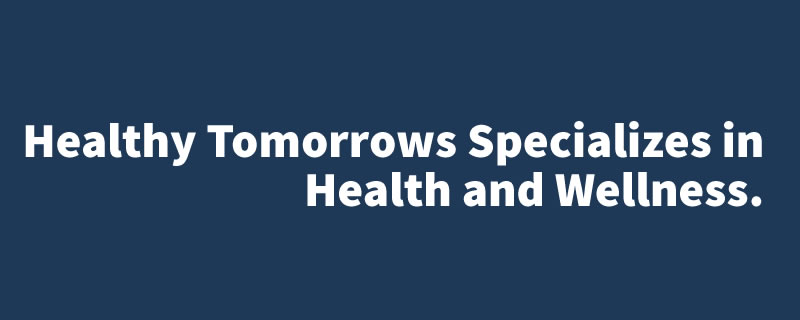 About Healthy Tomorrows
What we do is very unique compared to a traditional doctors office. Functional / Integrative medicine looks at all body systems and how they work together. We take into account your history, lifestyle, stress level, your environment, family history, and many other factors to get an understanding of your overall all health. We then use specialized lab testing to get a picture of how your body is functioning. Just like a dentist specializes in teeth functional / integrative medicine specialize in getting to the root cause of your problems. Functional medicine is about finding the underlying cause.
Most providers are trained to look only in specific places for the answers, using the same familiar labs or diagnostic tests. Yet, many causes of illness cannot be found in these places. The usual testsdo not look for food allergies, hidden infections, environmental toxins, mold exposures, nutritional deficiencies and metabolic imbalances.
We use a variety of innovative testing techniques and procedures to help our patients prevent illness and recover from many chronic and difficult to treat conditions. Highly skilled in evaluating, assessing and treating chronic problems such as fibromyalgia, fatigue syndromes,
autoimmune diseases, inflammatory disorders, mood and behavior disorders, memory problems and other chronic, complex conditions. We also focus on the prevention and treatment of heart disease, diabetes, dementia, hormonal imbalances and digestive disorders.
Having been in the healthcare field for 17 years I have seen it all. With that I have found frustration with today's healthcare. Most of the time, we are not treating until its too late. Insurance companies and others like to focus on tertiary care and not preventive care. After years of writing one prescription after another I got sick of it. How about keeping us well, so that we don't need prescriptions if possible? I have set a new path in my practice. Help others with their wellness journey.
Who We Are
Megan L. Spears, RN, BSN, MSN, ANP
Healthy Tomorrows, LLC
Adult Nurse Practitioner

Megan Spears is the founder and owner of Healthy Tomorrows, LLC. Megan is an Adult Nurse Practitioner and has been specializing in primary care and wellness services since 2007. Megan's focus areas include all aspects of adult medicine and she has a special interest in functional / integrative medicine.

Before specializing in home based health care, Megan had 8+ years of health care experience including orthopedic and neurological care as well as emergency room and trauma care.

Megan received her Bachelors and Masters Degree from Arizona State University in 2004 and 2007 respectively. Megan is also a member of the American Academy of Nurse Practitioners, American Academy of Home Care Physicians, and a member of the Arizona Independent Nurse Practitioner Consortium.
What is a Nurse Practitioner?

A nurse practitioner (NP) is a registered nurse (RN) who has completed advanced education (a minimum of a master's degree) and training in the diagnosis and management of common medical conditions, including chronic illnesses. Nurse practitioners provide a broad range of health care services. They provide some of the same care provided by physicians and maintain close working relationships with physicians. An NP can serve as a patient's regular health care provider.
Because the profession is state regulated, care provided by NPs varies. A nurse practitioner's duties include the following:
Diagnosing and treating acute illnesses, infections, and injuries
Diagnosing, treating, and monitoring chronic diseases (e.g., diabetes, high blood pressure)
Collaborating with physicians and other health professionals as needed, including providing referrals
Counseling and educating patients on health behaviors, self-care skills, and treatment options
Obtaining medical histories and conducting physical examinations
Ordering, performing, and interpreting diagnostic studies (e.g., lab tests, x-rays, EKGs)
Prescribing medications, physical therapy and other rehabilitation treatments
Providing health maintenance and wellness care for adults, including annual physicals